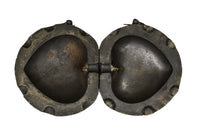 It all started with an idea...
It was probably a very poor Lauscha glassblower who could not afford the normal decorations of fruit, nuts and sweets to adorn his Christmas tree. So, he ingeniously formed simple hollow shapes over his oil lamp, and then later, in 1847, glassblowers in Lauscha began using molds to create more detailed shapes. This was the moment of birth of glass Christmas tree ornaments that spread from this little village all over the world. 
Around 1880...
the American business man, F. W. Woolworth, first became aware of the ornaments from Lauscha and sold the first set for 25.00 US$ in one of his stores in Pennsylvania. Ten years later, Lauscha glass ornaments were a resounding export success and by the turn of the century, Woolworth was ordering 200,000 shining ornaments per year.
Today Lauscha looks back on more than 160 years of tradition and artistry, and is rightly respected as the birthplace of glass Christmas ornaments.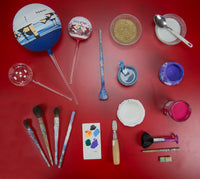 About us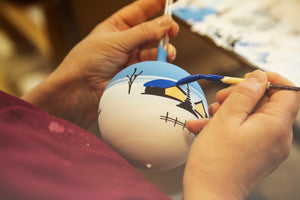 We are a small family business, located in the small village of Lauscha, in the Thuringian midrange mountains of Germany.
Starting with blowing the ornaments right through to lovingly decorating and painting them all by hand and to packaging our creations, every step is done in traditional ways right here at our workshop
Our number one goal is to work with the best materials available and to follow the traditional paths of the craftsmanship from the past to satisfy our customers quality needs.
Philosophy
Today, we like to focus on the traditional art of what our ancestors have taught us and also go new paths, trying to perfect our handmade ornaments.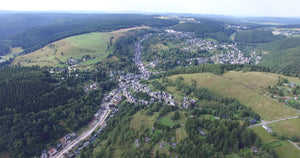 Lauscha, Germany
A view from above Lauscha, right in the middle of summer.